De Bresser is your partner for local, national and international relocations.
Relocating is a major event for everyone. You will leave your familiar surroundings behind and embark on a new adventure. In addition to the physical relocation, a lot of other things must also be arranged. We cannot help with everything, but we are happy to take the physical part off your hands.
Every year we are happy to carry out more than 800 private relocations, with 90% of our customers giving us an average rating of 9! The process will be discussed with you in detail beforehand, so that neither you nor we are faced with any surprises.
Wij van De Bresser zullen er alles aan doen om het verhuizen voor u zo plezierig mogelijk te laten verlopen.
Do you have questions or would you like a quote? Please contact us and we will help you within 24 hours.
De Bresser specializes in both small and large relocation throughout the Netherlands, whether it is a small heirloom or your restored piano. We ensure that the process is professionally arranged from start to finish.
Call us and we will make an appointment without obligation. During this meeting, you indicate exactly what your wishes are and we ensure you that your move runs smoothly and according to a tight schedule.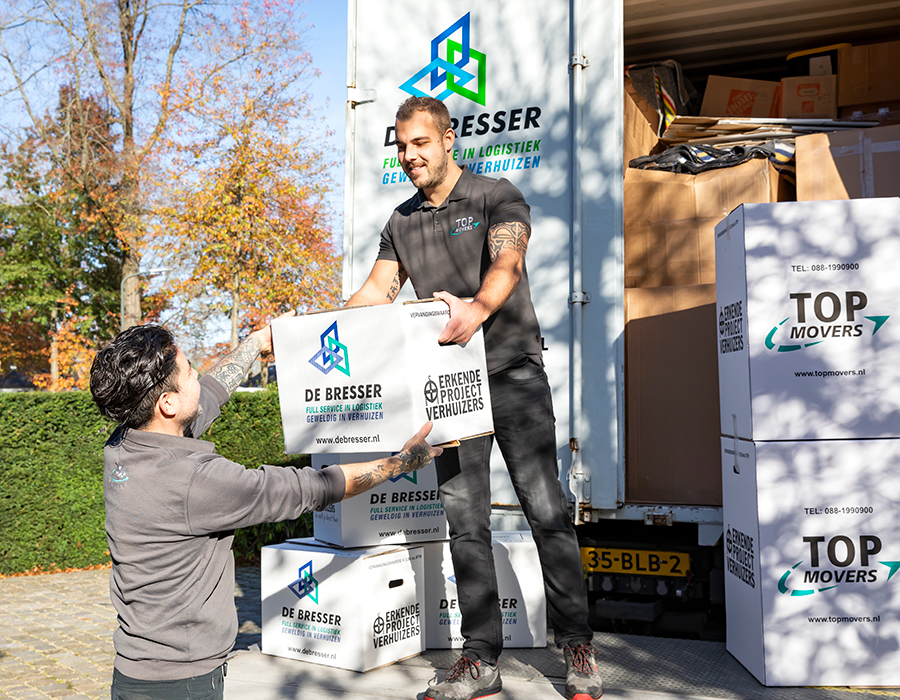 We moved to a beautiful location in Breda on the 7th floor. From the landlord's point of view, the move had to be done from the outside.
These people did everything professionaly with a moving lift, geez that's pretty high 🙂
Sometimes I had to restrain myself from helping, I just got in the way.
It is of course more expensive than moving yourself, but if you are already completely in your new home at 1 p.m. it is a no brainer, you just cannot do this yourself.
Real professionals who know how to move
Good estimation of the required number of boxes. Initially, too few stickers were delivered, but two more sheets were subsequently sent by post.
Loading and unloading went very smoothly and my bed was neatly taken apart and put back together. The hinges of one narrow wardrobe with shelves came loose during the ride, causing some damage to the original attachment points. Next week the company will send someone over to have it repaired.
Very pleasant contact with Mrs. Van der Heijden from the office.
Need help with a private relocation?
A relocation is no small feat. In addition to completely clearing out your old house, your new house needs to be redecorated Packing and unpacking the boxes takes a lot of time. Not to mention chores like hooking up equipment, reassembling furniture, and decorating the house. Now, of course, you can take a few weeks off to make things right or enlist the help of friends and relatives. In practice, however, it turns out to be quite difficult to arrange this. Hiring a moving company can be an interesting alternative for these reasons. Are you looking for a recognized and professional moving company that is happy to help with a private relocation? Then get to know the experienced, recognized, enthusiastic and handy movers from the De Bresser team. We ensure that you move from A to B carefree.